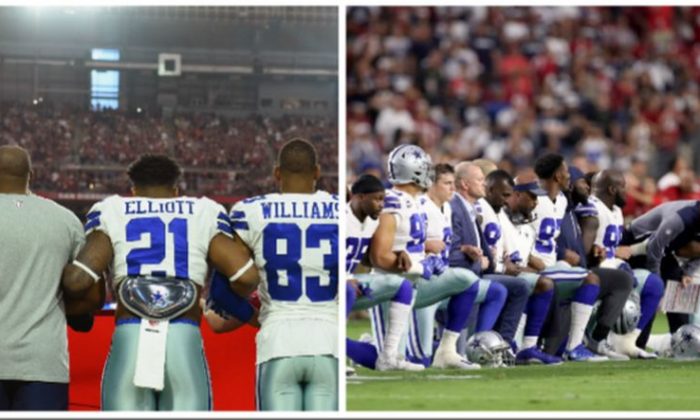 Look, I have no problem with players protesting whatever they feel like protesting, I mean, this is America and they have the same first Amendment rights that I do, as well as every single American in this country does.
President Donald Trump renewed his onslaught against the NFL, American football's elite league, with a series of Twitter tackles after a series of weekend protests continued. "There's no need for us to talk about unity and equality and have 60 percent of this country mad at you because you're not perceived to be honoring the flag, '" Jones said.
"Spoke to Jerry Jones of the Dallas Cowboys yesterday", Trump tweeted.
Last Friday, Trump told a political rally any protesting player was a "son of a bitch" who should be fired, and urged a boycott of National Football League games, triggering protests by dozens of players, coaches and some owners before Sunday's games.
More news: Iran launches new ballistic missile
Wow, what has become of sports in this great country that I am more eager to see the anthem than the actual game on the field?
Trump said Wednesday that the NFL is in a "really bad box" over the issue of players kneeling in protest during the national anthem.
In another tweet, Trump once again suggested the NFL should "set a rule that you can't kneel during our National Anthem!"
But the president called the Dallas Cowboys' anthem display - in which they knelt together prior to the anthem and stood arm-in-arm during it - "big progress".
More news: Roku IPO Priced at $14, Values Firm at $1.3B
After Monday's game, Jones explained his team's actions.
But Jones said the Cowboys were not "influenced" by the president and they were not "played", as a column in the Star-Telegram suggested on Thursday.
Donald Trump says that there is no beef between him and Dallas Cowboys owner Jerry Jones. The team stood with arms interlocked as Jordin Sparks sang the anthem.
Short said he had been a die-hard Oakland Raiders fan until most of their players kneeled or sat during the national anthem on Sunday.
More news: Harry and Barack Obama cheer on wheelchair basketball players at Invictus Games
Kaepernick, who is unsigned this season, began dropping to a knee during the national anthem previous year in demonstration against police brutality and injustice. "I believe we'll look back and say, 'This team grew up that night'".