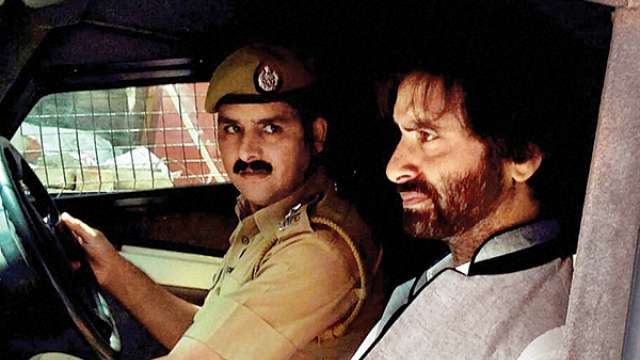 The houses of senior Hurriyat Conference leaders were among 11 places raided by the National Investigation Agency (NIA) on Thursday, as part of its investigation into alleged funding for "subversive activities in Jammu and Kashmir".
The NIA has recently been conducting raids and arresting people associated with the separatist leaders in connection with money laundering and some other cases after India Today exposed their Pakistan link in a special investigative report - Hurriyat Truth Tapes. NIA confirmed that the raids were conducted at 20 locations in Srinagar seven locations in New Delhi.
The National Investigation Agency (NIA) on Thursday carried out searches at 11 places in Jammu and Kashmir and the national capital region in connection with its probe into the funding of terror activities and channelling of ill-gotten money through cross-LoC trade.
Meanwhile, sources said that the protesting people have called for a protest on Friday against the harassment by NIA to the Aga family.
More news: Su'a Cravens: I need to follow 'what makes me happy'
NIA officials recovered fixed deposits worth Rs 1 crore, suspect financial records, property related documents and other incriminating papers, which are being analysed with the help of CAs and income tax department officials. "Mr. Qayoom is more than 65", reads the letter written by Anwar-ul-Islam Shaheen, joint secretary of the association.
Yet another NIA team carried out a raid on the residence of separatist leader Shabir Shah's close associate Zamir Sheikh at Nowgam Bypass.
The NIA teams also raided Al-Hyder Complex and offices of chartered accountants of Zahoor Watali at Hyderpora in Srinagar. The chairmen of both the factions of Hurriyat, Syed Ali Shah Geelani and Mirwaiz Umar were placed under arrest in their houses and a large contingent of police were deployed outside their houses.
They said that the move was to counter the NIA's "harassment".
More news: Trump hints at pulling out of free trade deal with South Korea
Mittal said that no person has been arrested by the NIA in these raids.
He added that searches are "still continuing" and "the suspects are being questioned about the incriminating recoveries made from them". The residential house of Imran Kawoosa, Kawoosa and sons at Nowhatta Srinagar was also raided by NIA.
Meanwhile, Chairmen of both the factions of Hurriyat Conference (HC) Syed Ali Shah Geelani, Mirwaiz Maulvi Umar Farooq and Jammu and Kashmir Liberation Front (JKLF) chief Yasin Malik have chose to protest and court arrest at the headquarters of National Investigation Agency (NIA) in New Delhi on Saturday.
More news: United States forces Russian Federation to close San Francisco consulate, shrink 2 others