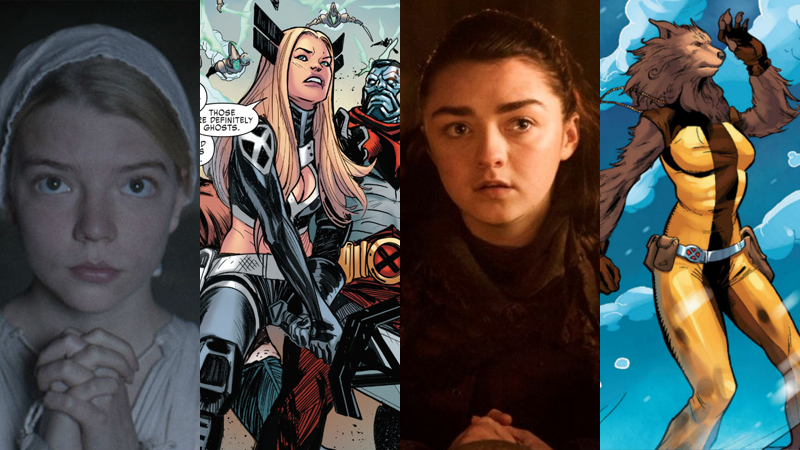 In addition to that, X-Men: Dark Phoenix will arrive at the end of 2018 on November 2. According to The Hollywood Reporter, Game of Thrones star Maisie Williams and Split's Anya Taylor-Joy have joined the project.
The rest of the New Mutants team includes Dani Moonstar, a Cheyenne girl who can cast illusions; Sunspot, a Brazilian boy who can channel solar power; Cannonball, a Kentuckian guy who can propel himself like a jet; and Warlock, a shapeshifting alien.
Wolfsbane is heavily tied to another main player in the X-Men movie universe: Moira MacTaggert.
More news: Wizards' Oubre suspended for Game 4 for knocking over Olynyk
Williams will play Wolfsbane, a girl struggling to reconcile her religious beliefs with her power to turn into a wolf. In the comics, Wolfsbane was a Scottish orphan raised by Reverend Craig, an abusive old man who admonished her mutant lycanthropy as proof of her connection to/relationship with Satan. If this sounds familiar, that'd be because word of the casting first broke past year, in March 2016, when we learned that Boone had set his sights on the young actresses to play Wolfsbane and Magik, respectively.
Taylor-Joy scored the role of Magik, the younger sister of Colossus (who appeared in Deadpool) who is a sorceress and uses teleportation discs to travel.
Turner, who plays Sansa Stark in the world of Westeros, joined the X-Men universe previous year when she appeared in X-Men: Apocalypse as telepath Jean Grey.
More news: More details of updated BMW 4 Series
Production is expected to begin this July, so we should be hearing more casting reports pretty soon. Knate Gwaltney is writing the script.
Taylor-Joy broke out with the 2015 award-winning period horror movie The Witch and starred with James McAvoy in M. Night Shyamalan's surprise hit Split.
What do you think of the news?
More news: NBA Playoffs: Boston Celtics just one win away from Eastern Conference Finals